Your technology is the backbone of your business – without it, you would fail. Regardless of what your business does, you use technology to run it. Whether it's remote collaboration, processing payments, scheduling appointments, paying your employees, creating and managing content, or even just sending email – your business technology is essential.
But technology is complex, and it changes fast, and most Maryland businesses have a hard time keeping up with managing their technology properly. While you may have an in-house IT team, chances are they are overwhelmed and can't help you leverage your IT to the maximum. With our Tech Support in Maryland, your IT can give your business the stability it needs to grow. Through reliable technology, holistic solutions, and streamlined workflows, your business will be better equipped to handle heavy, demanding workloads.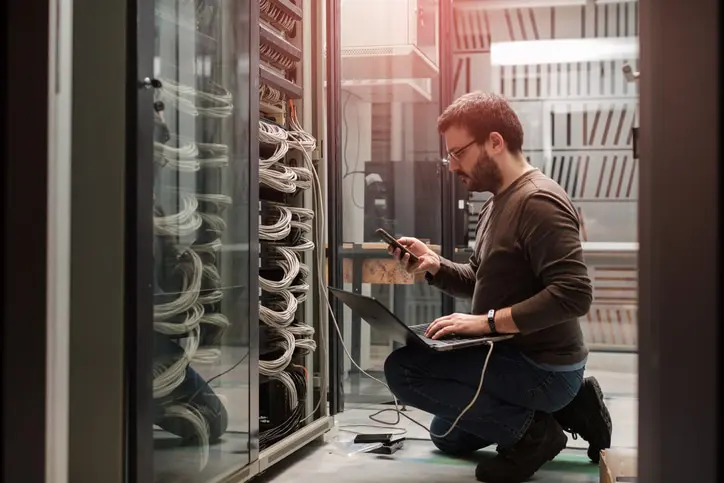 Tech Support in Maryland By Orion Networks
At Orion Networks, our Tech Support in Maryland includes the following:
Dedicated IT Support
Whether it's sluggish WiFi, email problems, or a major network crash, IT interruptions limit the service you provide your customers. At Orion Networks, we understand that even the smallest IT glitch can cause significant downtime and the loss of revenue you can't get back. With our dedicated IT support services, you can rest assured that your IT issues will be resolved quickly and efficiently, getting you back to business in no time.
It's frustrating enough to deal with the inconvenience of IT issues; you don't need the added aggravation of slow-to-respond IT support. That's why we provide 24/7 IT support services that you can count on. Our IT specialists are available around the clock and can resolve IT issues within minutes by accessing your devices remotely. We also provide onsite IT support and will come out to your location to provide physical IT support. With our advanced real-time monitoring tools and expert security engineers, you can rest assured your network is fully protected, 365 days of the year. Here's what sets us apart:
Helpdesk support team available 24/7 to keep your business technology running at all times
Fast response times to get you back to work faster
Affordable and flexible IT support plans, so you can choose the service level & price-point that works for your business
Comprehensive network monitoring in real-time
Backup solutions
IT Consulting
Our IT consulting services allow businesses in Maryland to implement IT strategies and solutions to achieve business-IT alignment and drive maximum value from their current IT initiatives. Use the expertise and deep tech background of the best minds at Orion Networks to create a comprehensive IT strategy for a digital and technological transformation of your organization that goes in line with your business objectives.
We offer IT consulting services that will help you improve your software architecture, create a tech-driven digital strategy, and improve operations by optimizing your software portfolio. We provide the following IT consulting services in Maryland:
Data loss prevention and reliable backups for mitigation
Migration from legacy systems
Implementation of document management solutions
Application hosting on cloud-based providers
Firewall deployment to remediate network vulnerabilities
Threat and security assessments on your network
Custom storage solutions for mission-critical data using NAS and SAN technologies
Cloud-based email implementation
Setting Up New Office
Relocating to a new office – or moving into an office for the first time – can be a hassle. There are a million details to consider, from coordinating movers and a moving schedule, organizing your office staff, to choosing office configurations. At Orion Networks, we want to take the IT infrastructure setup off your plate.
We provide comprehensive Tech Support in Maryland for new office setup that includes:
Comprehensive assessment of your business needs
Onsite or a cloud-based network setup
Comparison of your setup plan with other IT infrastructure setups within your industry
Identifying the right industry-specific vendors for your software needs
By trusting us with your new office IT setup, you can be confident that your network workstations, server, and phone system will be configured to efficiently support your business processes when you walk into your new office. We also provide ongoing support and maintenance to ensure your office keeps running smoothly.
Virtual CTO 
Many Maryland businesses don't have the resources to hire a full-time CTO (Chief Technology Officer). This is where Orion Networks' virtual CTO services come in. By taking advantage of this service, you gain access to the expertise you need to plan out your company's IT strategy and keep projects on track – without hiring a full-time CTO.
Our virtual CTO services are designed to provide IT leadership to your company so that you can maximize your IT operations. We offer the guidance and advisory services you need to ensure your technology supports your business. Orion Networks' virtual CTO can help you:
Reduce operating costs with modern technologies
Streamline processes with custom-built solutions and cutting-edge new technology for increased productivity
Implement correct disaster recovery procedures and data backups
Improve your network security to prevent cybersecurity threats by ensuring your IT network complies with current security standards
Improve your competitive edge with greater mobility
Identify and manage IT vendors to meet your specific business needs and control costs
Plan for the future with a strategic IT roadmap aligned with your budget and business objectives
IT Product Sales
As a business, you need to ensure the consistent delivery of high-quality IT products for your enterprise workflow and your customers. You also need to implement new technologies to stay competitive and meet the demands of modern users. At Orion Networks, we pass on our vendor relationship benefits to our clients through our IT product sales services, allowing them access to comprehensive computer hardware, networking, and software solutions from the manufacturers directly at a discounted price. We also provide a 1-year service guarantee if you get the hardware or software installed through us.
With Orion Networks, you can enjoy discounts on:
HP and Dell Laptops, Desktops and Servers
Microsoft Office 2013 and 365
Various antivirus and backup solutions, including ESETSymantec and Acronis
Microsoft Operating Systems, including Server 2012, Windows 7/8.1, and Server 2008 R2
Routers and Firewalls from Sonicwall and Cisco
Why Choose Orion Networks For Tech Support in Maryland?
At Orion Networks, our Tech Support in Maryland are customized and scalable to meet your unique company needs, working to optimize and sustain a healthy IT network. Our clients
Experience: We hire only seasoned, professional technicians and engineers and provide our technicians with continuous training opportunities regularly to allow them to stay current with the latest technology.
Support you can trust: We are your one point of contact for any IT-related issues and always work to solve them quickly.
Quick response – Our service philosophy is proactive, not reactive. With state-of-the-art network monitoring and management, we manage your network 24/7 to identify issues and address them BEFORE they become problems, rather than putting out fires.
Cost-effective: To staff, an around-the-clock IT department would cost a considerable amount. With our comprehensive Tech Support in Maryland, you only pay for what you use. Your IT spend becomes stable and predictable with a flat monthly fee.
Cohesive strategy: We are always looking for continuous improvement opportunities so your business can gain a competitive edge.
Rely on Orion Networks for Tech Support in Maryland
Orion Networks provides comprehensive Tech Support in Maryland to companies of all sizes. Our goal is to empower your company to thrive in an ever-changing technology landscape. We design, acquire, deploy and optimize technology solutions to help your business achieve more. Contact us today to find out how our Tech Support in Maryland can help your business succeed.