The recent hike in cybersecurity breaches has left many organizations vulnerable, and the US Department of Defense (DoD) can't afford to take any chances with its contractors. It is for that reason that the DoD formulated the Cybersecurity Maturity Model Certification or CMMC. The CMMC framework encompasses multiple maturity levels that Defense Industrial Base (DIB) contractors are required to fulfill to prove that they're overly prepared and dedicated to protecting unclassified information.
You're probably wondering; how can organizations seek CMMC certification to improve their processes and consequently enhance their protection of controlled unclassified information? That's where CMMC-AB comes into play! It's an independent accreditation body tasked with training and assessing DoD contractors and hopefuls to ensure that they're ready to keep sensitive data and information technology secure.
Having created a basic foundation of CMMC and how it affects federal contractors, let us now switch gears to RPO, how it correlates with the former, and its roles for organizations.
What is a CMMC RPO?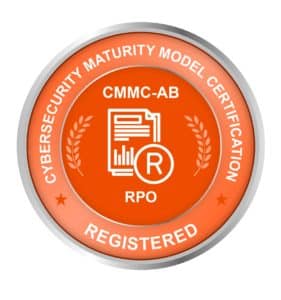 CMMC RPO is an acronym for Cybersecurity Maturity Model Certification Registered Provider Organization. Looking at that title, it seems pretty mouthy, but it's a simple concept in reality.
The CMMC RPO badge is designated to companies wishing to help DoD suppliers adequately prepare for a successful CMMC assessment. The CMMC-AB created the RPO certification to assure organizations seeking certification that the consultants they will hire are overly qualified for the job. That's a sigh of relief for many organizations that may be duped by numerous unethical entities who wrongfully claim to help them get CMMC certified when the final guidelines aren't even out yet.
The good news is that you can conduct an online check to determine the correct number of verified RPOs like Orion Networks. A qualified RPO is an entity that has undergone comprehensive training on what it takes to be CMMC compliant and how they can help companies achieve the same feat.
Below are the basic requirements to become a CMMC RPO:
To apply, you must be an entity owned by "US Persons."
You must register with the CMMC-AB to receive authorization.
Your entity must have at least one Registered Practitioner (RP) associated with the RPO (as a contractor or an employee) at any given time.
You must sign the RPO agreement, which among other things, stresses that you must be committed to adhering to the CMMC-AB Professional Conduct Code.
You must pass an organizational background check.
You must pay a $5,000 annual registration fee.
The bottom line is, a business only needs to meet a few requirements to become an RPO-listed entity on the CMMC-AB Marketplace. Afterward, they can quickly join a few other verified entities in expanding the CMMC circle. DoD suppliers and organizations seeking certification are also lining up to seek the services of these vetted consultants to seek CMMC certification.
How an RPO can Assist Organizations with CMMC Certification
Hiring the best RPO to provide CMMC consulting services can eliminate the hassle of moving back and forth to fulfill all the requirements of the accreditation body. A verified consultant can help you prepared for CMMC compliance in the following steps:
Step 1: Gap Assessment
After choosing your desired level of certification, your next cause of action would be to select a qualified Registered Provider Organization (RPO) to assist with gap assessment or analysis. This involves taking an in-depth look at your company's current cybersecurity posture and comparing it with the set NIST 171-800 special publication plus other applicable controls.
The core objective of this step is to point out your present compliance 'gaps' considering your desired maturity level and lay down what's required to help you get prepared for CMMC. The report not only gives you clarity about your company's present security posture but also provides invaluable best practices and recommendations to help you enhance your network security.
Step 2: Preparation of an SSP and POAM
SSP & POAM are acronyms for System Security Plan and Plan of Action & Milestones. While referring to the gap analysis report (in step 1), a vetted RPO can prepare fulfilling SSP and POAM, which are both influential in your journey to CMMC certification.
These documents serve as concrete evidence that you can present to the DoD, showing that you're well on course and committed to meeting the compliance requirements. Hiring an external consultant to write cybersecurity documentation saves on costs of lost productivity associated with tasking your internal staff to undertake the process. That's true because it takes 80 working hours for your internal team to develop the documentation, which equates to about $6,000 in staff-related expenses.
Step 3: Remediation
Here, your RPO amends all gaps pointed out by the Plan of Action and Milestones documentation to keep you on the right path as far as getting CMMC certification goes. The ease or complexity of the remediation process depends on your current IT systems and security state.
As such, it can be as straightforward as introducing multi-factor authentication on your business accounts or as sophisticated as renewing or updating your entire IT infrastructure. Working with the right RPO can guarantee that all loopholes are sealed, and you don't suffer any setback in your journey to seeking CMMC compliance.
Step 4: Optimization
Optimization is the final role of a reliable RPO, but, unfortunately, not so many entities are keen to reach this far. As the name suggests, this is an ongoing process where your consultant continually optimizes and improves operations to keep you updated and relevant to the current security controls.
How Can Orion Networks Help?
Orion Networks is one of the few CMMC RPOs accredited to help organizations achieve speedy certification required to win future contracts and protect company-specific and DoD data. As you may be aware, the journey to getting CMMC certified is a long, tedious, and costly one, especially when explored without a cybersecurity expert's input. Reaching any certification goal requires thorough planning and implementation of specific variables that take approximately 8-12 months.
Luckily, you can work with a reliable RPO to lessen the burden of exploring CMMC demands alone. At Orion Networks, we have the resources and expertise to assist you at any stage of the compliance journey and get you in line to win those lucrative DoD contracts. Our overly qualified RPs are well versed with CMMC-AB requirements and dedicate to assisting organizations throughout the Washington DC metro area with adequate CMMC preparation and certification.
So don't get left behind! Contact us today, and let us remove the hassle off your CMMC compliance journey.